Worried about data security? If you're not, you probably should be.
The number of ransomware attacks continue to rise and show no signs of slowing. Globally, 27% of people whose data was held hostage chose to pay their attackers at a staggering average cost of $1.1 million per ransom. Healthcare organizations are especially vulnerable to these attacks, which are more frequent and severe than ever.
If you're a business owner reliant on technology, you're putting your whole business at risk if you aren't putting up the best protection against ransomware that you can.
But if you're unsure just how to respond, then these 5 ways to protect both you and your business from malicious intrusion should help.

Install Priority Security Updates
One of the biggest ransomware attacks of last year was the WannaCry attack that crippled businesses and public sector organizations across the globe.
It was able to have such a disruptive impact because the organizations involved had not kept their systems up to date. Their systems lacked the security update that had been issued to fix the exploit the attack used to gain access.
A lesson all organizations should learn for the future. Ensure all important security updates for software and your operating system are installed timely.
Install Anti Virus Software
Security updates are important to help your organization defend against ransomware, but they can't prevent everything. If your systems have ransomware installed, they can cause plenty of damage on their own.
This makes installing a good quality anti-virus essential in helping protect your data, as well as keeping it up to date to ensure it can respond to the latest threats.
Avoid Email Attachments from Unknown Senders
Email attachments are a significant security threat to your business. You should treat every attachment with caution, even from senders you believe aren't a risk.
You should avoid opening any email attachments from any sender you don't know, and if you're unsure about a friend or colleague, ask them directly if they sent the email. Scan any attachment with your anti-virus software before you open it.
If you're unsure how to spot a legitimate email from a fake, then take a look at the online security advice given by the US Federal Government.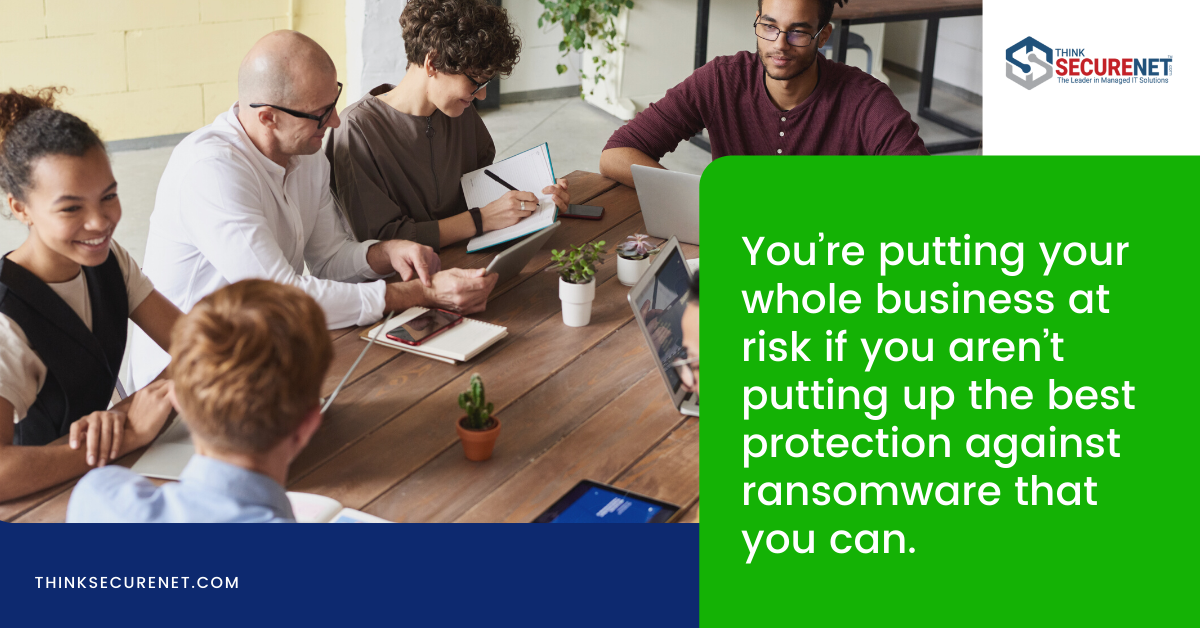 Keep Your Data Backed up Securely
Even a well-defended system can find itself compromised. If this happens, you need to make sure you can recover your important data.
Ensure your organization has proper backup solutions in place, especially for critical data. Keep multiple backups and consider using cloud backup solutions, where possible, to keep a backup securely offsite.
If you've already been hit by data loss without adequate backups, consider whether you could benefit from our disaster recovery services.
Infected? Disconnect Your PC Immediately
Think your PC has already been infected? Don't panic! You may see a warning from the ransomware informing you to pay a ransom for the recovery of your data.
Don't respond to it. Switch your PC off, and disconnect it from the internet and from your internal network to prevent it from spreading or from 'dialing home' to the criminal operators.
Once you've consulted law enforcement agencies, you can begin your ransomware data recovery operation.

Don't Let Ransomware Attacks Ruin Your Data Security
You can't afford to be one of the 68.5% of businesses who are forced to shut down because of irretrievable data loss.
And, if you're a medical organization reliant on data access for patient care, having a disaster recovery and business continuity plan and a prevention strategy is critical to maintain operations for your patients and organization. (Plus, if you're working with protected health information and are subject to HIPAA requirements, you definitely don't want your medical entity to end up on the HIPAA wall of shame!)
Reduce the risk with a clear plan for the security of your data and your systems. Ensure all important security updates are installed timely, and that your important data is backed up, both on and off-site.
Are your computer systems secure? If they're not, your data security is at risk. Get the right protection from ransomware attacks by investing in our managed security solutions.